Simply Queen - Live Tribute
Sat. Mar 30, 2019 at 8:00pm EDT
Price: 44.50 CAD $
All Ages
Event Stats
Price: 44.50 CAD $
All Ages
Event Description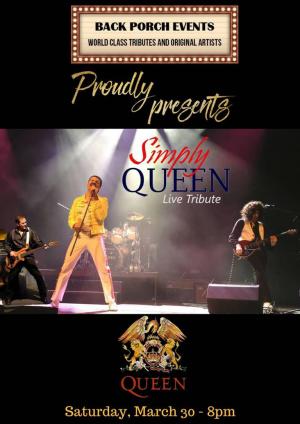 We only have one standing room ticket left. Thank you to everyone who showed support for this show!
Simply Queen is fronted by Freddie Mercury impersonator extraordinaire Rick Rock. Guitarist Bob Wegner was hand-picked by Queen's Brian May and Roger Taylor to play guitar in several productions of the award-winning "We Will Rock You" musical. Drummer Greg Hawco is a television and film composer, notably for the CBC television series "Caught". Mitch Taylor on bass is a veteran of the southwestern Ontario circuit.
The band performs all the iconic songs that made Queen one of the most legendary rock bands of all time, and faithfully recreates the grand scope of Queen's live shows, both musically and visually, with attention to detail capturing the live amazing live Queen experience that filled stadiums around the world. No backing tracks - it's all live, and "Guaranteed to Blow Your Mind!"
View Everyone
Who's Going?

Serge C

Susan D

Thomas R

Shelley B

JOYCE J